An unlevel level playing field
To play, or not to play?
Whilst that's a very simple question about what is essentially a simple game, the answer is a minefield. I had the misfortune of listening to Jim White for 15 minutes this morning, I totally understand why the focus is on the upper echelons of the league structure. Realistically, 4 years ago when we were celebrating a 10th consecutive season at the elite level, most of us didn't give a shit about how Fleetwood were getting on Tranmere, or what Oxfords run-in was like?
The basis of most arguments is, it's not fair, too right it's not – a Killer Global Pandemic devoid of a vaccine, was never going to play by the rules and display sportsmanship and integrity?
The Sun Always Shines on TV?
I don't actually think the PL clubs believe they should be playing ASAP, I certainly don't believe the players want to play ASAP. What happens in La Liga and The Bundesliga will probably shape what happens in the Premier League? The PL is essentially TVs Bitch….. and my, (admittedly cynical), view is that the clubs need to, (and will), play ball as much as possible without actually playing football?
We're not in the Premier League?
No we're not, whilst COVID-19 May mean it's as many as 3 years til we are in the top flight, (could be as many as 5 years til we are in Europe!). Whilst the start of this article alluded to it being a simple game that we all play the same way, obviously it's not? I'd like to see the EFL have some balls and make their own decision. They are essentially 2 very different games – I've been to circa 50 games this season, the main subject of the phone in that we listen to post match is VAR…. I've never actually been to a game with VAR!
It's Safe at the Top?
……daily testing, hotel isolation, everything clean, extra medical staff, CCTV, 6 pitch training grounds, luxury travel, clean air systems…… all of this will help to facilitate the return of football. Whilst I accept the focus is on the top flight, these measures do not exist in the wider footballing word…..
QUICK QUIZ…….the following pictures are either Premiership or EFL dressing rooms and tunnels, you just need to work out which is which, it's not easy… 1st prize is a ticket to any Leeds United Championship game in any of the next 14 seasons….. results will be announced on the Jim White Show tomorrow morning…
So whilst the PL has the facilities and resources to pursue resuming the game soon, it doesn't even begin to translate to the EFL.
SAFCBlog Verdict
There's no easy solution and certainly no fair solution. I see 2 options for the EFL…..
* Finish this season when safe to do so, (which will probably mean we won't commence a new 'full' season until August 2021?)
* Void this season, and start a new season in August 2020. Yes it might start with restrictions, but the gradual improvement of the viewing options and the graded return to the beautiful game will create a wonderful feel good factor and momentum – football will more than ever need to have 'mass appeal' – we are going to have to offer a product better than we ever have, in order to emerge from this positively?
Easy to say when you're in 7th place?
I'd say the same regardless of our position,I actually think we would still get 2nd spot, failing that I think we'd win the play offs…. and there's the thing, no one knows what would happen and that's the absolute beauty of the game….. there's all manner of things that could happen watching Sunderland in the remaining 8 games. The beauty of it is no one knows what would happen…. football can never be played on paper, and that is why we cannot just fudge a theoretical outcome? Last poem I promise…..
It's Just Not An Exact Science……..
"Results elsewhere, Wkyes new hair, extra time, over the line, too late making subs, random pubs, train cans, 3 match bans, onside, scuffed it wide, red card, just tackled hard, missed chances, celebratory dances, offside, picked wrong side, Barton being a Prick, Steve Evans what a dick, kick off late, is this your fate, service station, last gasp elation, out of luck, oh fuck, steel nerves, teams playing the reserves, goes to pens, too tense, pitta bread, Wembley dread, minced Turkish lamb, memories of Big Sam, extra time, it was over the line, just have a dig, oh shit it's Grigg, on fire, King Maguire, Watmore, on the floor, Benjamin Mbunga Kimpioka, last minute choker, Steve Parkin death state, fight a brown bear, message boards, travelling hoardes, exhaustive list, come home pissed….. with expectation we can cope, the killer is the hope…..Wembley Wonderland? Wake up…same old Sunderland…. CHOOSE FOOTBALL
https://youtu.be/FfnhmuZ27eQ
FTM


SAFCBlog
41 mins ago
@MeatMalcolm Rodney parade , Newport…
Read More



SAFCBlog
3 hours ago
RT @ShaunSAFCBLOG: NOT ENOUGH SAFC POETRY IN THE WORLD…
The Beauty of Football is 'Anything can Happen?' https://t.co/Dock0h9wGv…
Read More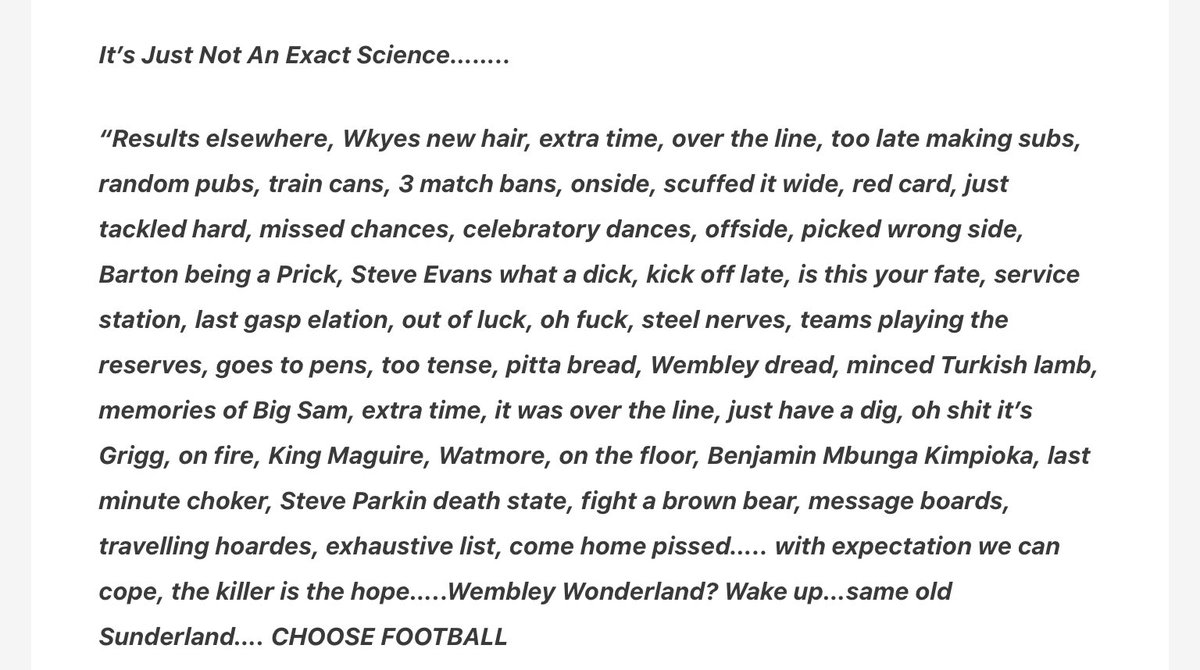 SAFCBlog
5 hours ago
@GoldieFTM @herindoor @PhilRodgers73 @Phil__Smith @Sunder_LAD @Jam_Sarny @SafcMerch @WearsideRoar @Kate88Smith @1879SAFC @AticaSi @OnTheBackFoot1 @EzPerez1 @halftimepiesite @HappyWanderer55 @YfrontFanzine @EzPerez1 @Charlie65600364 @safc110497 @bet4bettor @stevew_pfc @steveovo3 …