McGeady Gone?
SAFCBlog normally deals in facts, I'm especially mindful to not take too much from Social Media platforms – but it's a reasonable bet that the headline of this article is true?
Sadly life in L1 is a pretty miserable existence? I'm a positive man when it comes to SAFC, but……
Recent results have been poor
Recent performances have been poor
A lack of heart concerns me more than a lack of quality
Aiden McGeady is the most gifted player in our squad.
So if he's gone, it's a disaster? Or perhaps not? Football is of course a game of opinions, and opinions can of course change.
Life would be boring if we all agreed on everything?
Aiden McGeady's recent from
Let's look back to last season…..
Aiden scored some great goals, including 2 at Wembley when were joint winners of some shit tinpot trophy
He was rightly applauded for taking a pay cut in the summer
This season
It was clear when he came on at Accrington in the cup that he has a touch of class, just in the same way as AJ had, he just has that little bit more in his locker? It was a piss poor game drifting towards penalties and he basically came on and won the game.
We didn't play well at Bolton. It was clear that JR was on the brink of losing his job? McGeady acted like a twat all day, throwing his arms about, rolling around and short of being ushered away, he could easily have clashed with fans at the end of the game.
Thankyou and goodnight
Whilst it's easy to be wise after the event, anyone who reads this blog regularly will know I've been hugely critical of his fitness and attitude since the pressure started to build on Jack Ross.
In recent home games, it's looked like he's played how he wants to play, rather than fitting into a team?
We have only really played well 3 times this season, Burnley, Sheffield Utd and Tranmere – it could be coincidence, but he didn't play in any of these games! My opinion is we've looked better without him this season.
We all know mates of mates, people who work at the club, people who work in the media etc…. whilst it's not evidence, these opinions, coupled with Leadbitter's interview after the Scunthorpe game – is a strong suggestion that he might not be an overly positive influence on the dressing room. I've no problem with players liking a drink, (I occasionally partake in a drink), his appearance in McDonalds eating shite in his club tracksuit was at best Ill judged, probably a bit daft and worst of all a bit arrogant?
Opinions aside,we all know,if we are winning every week – fans couldn't care less. The reality is results are poor and more cutting performances are poor, even more cutting is they look like they lack heart? Things are not good – but if we are going to improve we need commitment, passion, heart, intensity, discipline etc – sadly we are in league where quality is less important than the aforementioned.
McGeady Gone?
I'm not a fan of judging individuals on past misdemeanours, but he's obviously got it in his locker? Like people caught doing 100mph or a Prince HRH noncing about, (hypothetical examples), you rarely get caught out every, (or the first), time?
Bizarre timing really, as I rewatched STID this week, like many SAFC fans I binge watched upon release – watching it again, I've taken loads more in. I earlier alluded to opinions changing, well mine have…. I've perhaps been a bit harsh on Chris Coleman in previous blog posts AND McGeady definitely came across as a bit of a knobber.
The last few minutes of STID showed CM and SD telling the assembled media, (selfies available), that the piss take party stops here…… well it hasn't has it?
Our owners have shown themselves to, (in my opinion), be weak as piss. Prove me wrong Stewart and show your face on Saturday.
Whilst I've dipped out of social media, aside from this multi award winning blog (**), it seems lots have decided that we should change manager again after 7 games, (yes 7 fucking games!), despite the squad playing like a gutless shower of shite – people are moaning we set up defensively – well if you've got Will Grigg up front, you need to keep a clean sheet, because he isn't going to fucking score!
(** not true)
This won't be universally popular ….. but maybe, just maybe, we have seen a slight interruption to the piss take party? Whatever happens with AG and PP – at least our gaffer has shown some balls and heart?
Let's get right behind the lads on Saturday – 3 points and it starts to look loads better as we will beat Bolton on Boxing Day.
McGeady – got talent ✅ scored some great goals ✅ should be allowed to take the piss X
https://youtu.be/AL8chWFuM-s
FTM
SAFCBlog
10 mins ago
RT @ShaunSAFCBLOG: NEW…..Coventry vs sunderland preview https://t.co/GRV5Z5EA5f…
Read More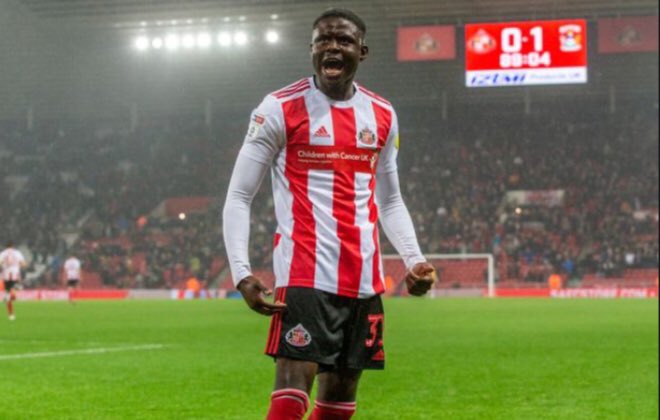 SAFCBlog
3 hours ago
RT @ShaunSAFCBLOG: HUGE GAME SUNDAY…..Coventry vs Sunderland preview : SAFC Blog – following Sunderland AFC …
Read More
SAFCBlog
4 hours ago
@YfrontFanzine @Dan_Simmonite Another shameless SAFCBlog hijack – but this fella all day long I'd say…. @PeteBrandon @Guymowbray @Yorktone @MickCordukes @johnbyrne2 @city_past…
Read More