SAFC Current ownership…. the thoughts of SAFCBlog
Aside from the fact that we are struggling a bit on the pitch, the topic of our SAFC current ownership is a bit of a
talking point
at present. I'm of the firm belief that
Parkinson is the right man for the job,
we also have enough quality in the squad and we will ultimately achieve our aim of automatic promotion. Our league position is ok, (not great, but ok), I'm confident that after the next two league games, (both at home), our position in the league will be very healthy. In recent weeks, it's fair to say that the
ownership of the club, investment, takeovers, loans, debts, intentions of owners /investors
are all key talking points? Somewhat ironically a regime that lauded
transparency
as a key facet, now seems to be offering very little in the way of communication? Rightly or wrongly a lack of
facts/information
inevitably leads to speculation increasing.
Stewart Donald Sunderland owner
To be fair to
Stewart Donald he did an hour on the radio tonight
, whilst he came across well, (he's a good speaker), I was a little bemused that the
vitriol, threats, need for bodyguards due to fans comments,
turned out to be
he decided to have a break
. Family rightly comes first – but I'm baffled that for 3 weeks, the public perception is he's getting a torrent of abuse from fans? Whilst this came from Charlie not Donald, surely it would have been prudent to put a statement out? It may be that the lack of club statement, lack of police statement, the fact he's always treated like a hero at away games etc, made people question the situation? Who knows? Game of opinions as always. As aforementioned,
fair play to him for going on the radio
, and also fair play for him acknowledging that people's opinions will differ. I just find it bizarre that Charlie was telling anyone who would listen that the fan abuse is awful, and now … it's
ermmmmmmm not!
Tonight's radio broadcast aside, I'd already pretty much written this article – so with full respect to it being a game of opinions, I'll crack on regardless. I've not got the financial know-how to offer any credible opinions on the fiscal position of the club, but…. I've been round the block and my gut feeling is not the best…. Sunderland is a tough city, populated by some really good people, for me Charlie is a bit of an anomaly – I couldn't care less that he was schooled at Eton, (good luck to him), but his PR has not always been the best?
"We played 62 games last season, I went to over 50 of them – don't need to hear this shite"
"Yeah, cheers pal"
The DNA of Sunderland AFC
It's a bizarre relationship? One of the more eloquent members of our travelling party, compared it to…. "
the fit wife of a hedge fund manager getting a good seeing to from the gardener
" – novelty, exciting – but not really a long term fit for either party? Anyone reading this blog will know that I regularly deride the
Twitter trolls and abusers
, whilst at the same time as acknowledging
the value of opinions and debate
. I thought SD was decent on the radio tonight – I just don't buy it; could be wrong, I probably am? In the interests of fairness and in the light of the glut of articles appearing online, I felt it was appropriate to look back at my opinions on our ownership. Since starting this blog in March, this is the 171st article – so the small matter of our owners has often arisen. A few people have been with this blog from the start, but it's only the last month or so that people have started reading it in any decent number. I may well be completely wrong in my cynicism, but thought it appropriate, (and perhaps vaguely interesting), to publish a timeline of the thoughts I've had on the subject since March. Before that…. the important bit. ……
Sunderland are a massive football club, the vast majority of its fans are willing them to succeed. I don't suppose there's many, (any?), none SAFC fans reading this… but the club is the heartbeat of the city. Football is great, but it's so much more than the 90 minutes, so, so much more.
….
"
Not all heroes wear capes"
"Football – so much more than 90 minutes?"
"
Wasn't to be, but it's only a game"
So, Stewart….. well done for facing the music tonight. My humble opinion is – it's too big a gig? I'm baffled that the
withdrawal from all fan engagement including games,
has been brushed aside? https://youtu.be/J-fX0UbpZlshttps://youtu.be/v7GB4l881Es
FTM
SAFC current Ownership – the views of SAFCBlog
As a point of interest, to give this article a bit of structure, SAFCBlog has offered a few opinions since Its inception in March 2019…..
MAY 28
JUNE 20
JUNE 22
JUNE 27
JULY 02
JULY 04
JULY 06
JULY 08
JULY 16
AUG 04
AUG 14
OCT 13
OCT 15
NOV 10
NOV 1
1
FTM
SAFCBlog
6 hours ago NEW ARTICLE TONIGHT AT *CHARLIE AND THE PISS TAKE PARTY* #SAFC https://t.co/gL4TZs65uh…
Read More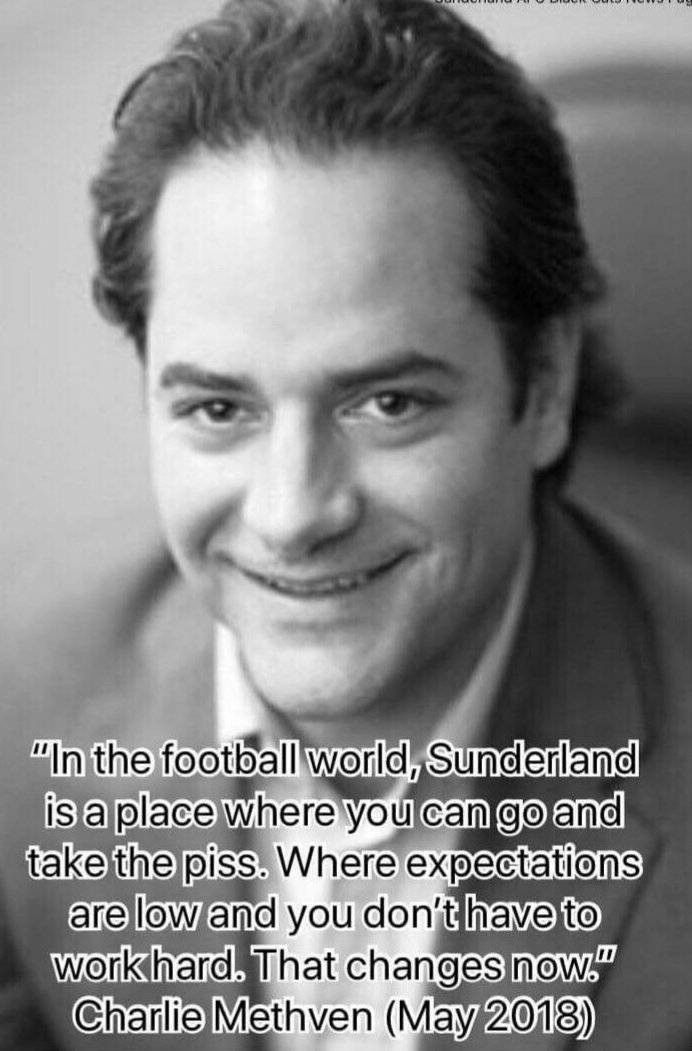 SAFCBlog
8 hours ago @Rossalini22 …
Read More
SAFCBlog
8 hours ago FROM 5 WEEKS AGO…..*THE NORTH/SOUTH DIVIDE & WHEN 2 WORLDS COLLIDE….*…
Read More