Stewart Donald Sunderland Owner
Stewart Donald – a few thoughts
The last 24 hours have seen an awful lot of media focusing on our owner Stewart Donald, whilst I've never been a fan and have been quite vocal to such effect – I've always been keen to reiterate that
it's a game of opinions
and that abuse of any form is unacceptable and lacks class. The reality is football is an emotional game and football fans are passionate, not an excuse for the online vitriol towards anyone online, but emotions are running high. I write articles most days about SAFC, so it would be inappropriate not to write about the turmoil unfolding at the club.
Stewart Donald SAFC
Stewart Donald I'm not saying any of the following is factual, but you wouldn't have search very deep to uncover the following sentiments……
He loved the adulation?
The promise all along was total transparency?
Once the crown slipped, he has disappeared? (more on that later)
Nothing good can come of him not attending games?
"Anyone seen Stewart Donald? He was here every day last season!"
What went right?
There's no doubt that he gave the fans a lift, people are desperate for SAFC to prosper, he actually benefitted in the short term from just not being Ellis Short.
New seats, pints with fans, phone ins, microphones etc….. all of these served to cheer the masses along
"
Hey chums, great public house, does the van outside sell fois gras and red lentil veloute, it's to die for chaps……."
What went wrong?
Twitter…… it's all well and good being accessible and available for high 5s and selfies – but if you're that accessible, you have to realise you are there to be shot at when things cease to sail on the calm?
He gambled on promotion, bets can be won and lost – he lost?
Saying you're going to be transparent and not doing so, is worse than saying nothing at all…… Where did money come from? Where did money go? Why 31 July? Why does your sidekick say you're staying away due to fan abuse, and then the story changes? Any situation where there are more questions than answers is fraught
Running a football club is a big job? Running a big football club is a massive job? It probably pays to be surrounded by experts rather than your mates?
Running a club…… exciting, appealing – BUT – hard work
Will Grigg…… he's been absolutely fucking shit for us. Donald chased him like a love sick pony and got his leg lifted on the price – no one could have foreseen just how bad he would be, in fact if you'd asked people at the start of the season Maja or Grigg – most would have chosen the bearded stroller to represent the better chance of promotion. I've no problem with us signing Grigg – it hasn't worked out – but the budget going on him was pivotal in our ultimate failure to go up last season.
(All of the aforementioned is representative of what has been said and written recently, I don't know the individuals mentioned and I don't have any knowledge of how to run a football club , or any evidence of any actions they have taken in running the football club. It's appropriate to say any statements are not necessarily the views of SAFCBlog – I'm just writing about the situation) One aspect of SAFC I feel better qualified to write about is……
THE FANS…..
THE SUNDERLAND FANS
There's loads of generalisations about the emotional rollercoaster of supporting a football club,
passion, hope, expectation, excitement, despair, disappointment
. We all make decisions every day of our lives, some with our heads and some with our hearts – watching football draws more on the latter.
Doncaster tomorrow? Fleetwood on wednesday? SOL on Saturday?
Are you completely fucking crazy????
Yes I am, thanks for asking
SAFCBlog never bought into the Stewart Donald revolution
Lots has been written over the last few days, we all have our views and opinions, for me I enjoy going to games so much that I've never been a fan of protesting at games – I'm genuinely excited about tomorrow's game, (see above picture?), but I totally accept people's desire to protest.
I never bought into the Donald revolution, but it's appropriate to say he was more militantly backed by the fanbase than any owner I remember
To date he's actually had quite an easy ride, despite the holes in his make-up getting bigger all the time. I watch home games in a group of 6 fanatical SAFC fans, only 1 of our 6 ever believed the SD hype – but we've never given SD any grief.
Over the last month the walls have been closing in on Donald, it seems the fanbase is almost 100% united in their distrust of him?
The concern I have about how the next month might pan out is this………. "The Donald Dream started to crumble some time ago, I'm of the firm belief that there's lots of details to surface that will make his tenure look even worse? His decision to basically disengage with the fans and the club has been hugely negative for all parties. I worry that by upping the ante against him – we may actually give him an 'easy out?'. His time was slipping away, he's not wanted which will surely mean he doesn't want to be here. Charlie told us that SD was staying away due to threats etc, only for Donald to say shortly after that he'd not actually had threats! If we make the headlines for anything inappropriate – it probably plays right into his hands. As it stands the fans have been brilliant, they have been patient and now we are angry. I don't want Donald to be able to be in the national press in a few days saying he's been forced out, he has to stay away, it's not safe etc….. I want him to be exposed for any wrong doings. The fans are ultimately the victims in this, so LETS BE LOUD, LETS BE PROUD, LETS STAY CLASSY. There's little doubt that SD will be on his way soon, let's not give him the opportunity to suggest that we, the fans are in anyway culpable for his fall from Grace"
Anyway, funny old game eh?
FTM
SAFCBlog
1 hour ago @iain_mac @mrewanmurray @Lawton_Times https://t.co/w9CGmlhLwK…
Read More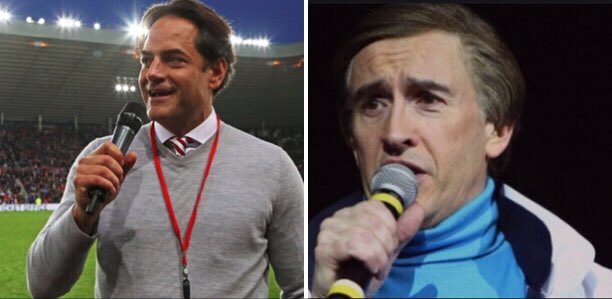 SAFCBlog
1 hour ago @Lawton_Times @christoph_21 His lips were moving …… …
Read More
SAFCBlog
4 hours ago RT @christoph_21: Brilliant from @squires_david https://t.co/788d3Y4eWu…
Read More